Collection
Year

Gold

Silver

Bronze

Team

1963

1

1

4

Silver

1964

1

3

2

Bronze

1966

1

---

3

Bronze

1967

3

2

3

Gold

1968

1

--

2

Bronze

1969

1

2

2

Bronze

1970

1

3

2

Bronze

1971

---

---

1

---

1972

4

1

1

Silver

1973

3

2

1

Silver

1974

---

2

1

Silver

1975

2

3

1

Silver

1978

---

---

---

---

1981

---

---

---

---

1982

1

1

---

Bronze

1983

---

---

2

Gold

1984

1

---

---

Gold
Among the 50s and 60s of last century young lady Věra met a man becoming her husband in close future. That was him, fisherman on fire, that talked to her about idea of trying new sport activity - casting to accuracy and distance with fishing tackle. That was him that brought a lady bringing first gold medal from castingsport to Czechoslovakia in history.
Věra Čapková walked an incredible long way in castingsport, dealing with events changes up to 70s of last century. But at every event she had to deal with she gained a medal, no matter if it was European or world championship.
At her first world championship (1963) she won her first gold medal in fly distance event. At her last world championship (1984) she said goodbye to nation team with winning her the most favorite event - spinning distance single handed.
In her career, consisting of 18 Europe and world championships, she gained 65 medals (1st in Czech republic).
She won 20 times (2nd in Czechia), including 3 titles of multithlon champion.
Spinning distance single handed and arenberg (spinning and fly, too) events were the best in her results.
Her average medal count for 1 participation is 3.82 that puts her to 2nd place in Czech casting ladies history.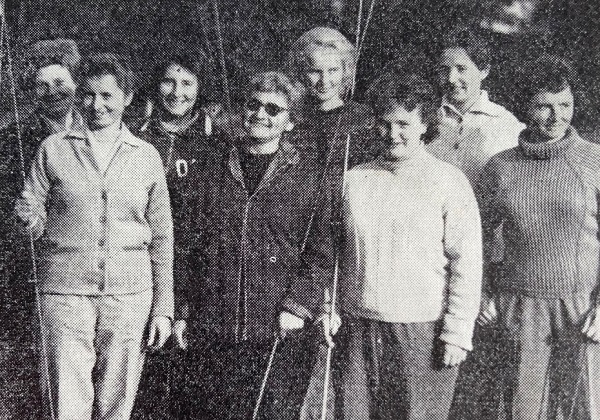 At the beginning, Věra Čapková had nothing to do with fishing. But her husband, a doctor, was passionate fisher as his grand-dad had been. During their honeymoon near Světlá nad Sázavou town he introduced her fishing and she did catch her first pike. He challenged her to join the castingsport. As she was studying faculty of sport education, she was very closed to sport. She loved swordplay and skiing but she wanted to meet castingsport.
It was a time of two organizations - ICF (International Casting Federation) and CIPS with part of casting, called Federation of Casting Sport (FCS) later on. ICF was casting to water, CIPS was casting to target on land. In 1961 CIPS introduced its first rules of castingsport containing 10 events (6 events for ladies).
Beginning of castingsport was not easy. As Věra Čapková remembers, no material or know-how we had in Czechoslovakia. When someone came to our republic for fishing and knew something about casting, Prague made a deal with him/her about some exhibition. Some of them even brought blanks and other stuff, paid by Prague club. But sometimes it was possible to buy an equipment. Casters bought their bamboo rod by themselves and for spinning distance very popular reel called "Tap" made by Mr. Tlustoš could be bought.
We can find first information about Věra in almanac from 1974 made by Czech Angling Union for 40th anniversary of casting in Czech republic. There we can see Věra on a photo from 1961. That time casting ladies from East Germany came to Prague and introduced events of CIPS rules to Czech casters.
Among the supporters and teachers of our casting ladies we can even find the greatest caster that time, Helga Wischer (3rd lady from left).
Close to her we can see the first Czech medalist, Ludmila Geryková (2nd lady from left) that gained bronze medal in 1960. We can also see Marie Wolfová (4th from left), national team partner of Věra Čapková at world championships in 1963 and 1964 and also the second world champion from czechoslovakia (fly arenberg - 1964).
18th and 19th August 1962 Brno city hosted 8th national championship of castingsport. We cannot see Věra Čapková in result yet, she gave birth to her son and had different things to do. Next year no national championship was prepared so next results we can find from next year. 25th and 26th July 1964 Vsetín city hosted 9th national championship of castingsport.
That year we can see Věra everywhere:

Spinning arenberg - 2nd place
Spinning distance - 1st place
Spinning skish - 1st place
Fly arenberg - 2nd place
Fly distance - 1st place
Fly skish - 2nd place
Věra also won all multithlons - spinning triathlon, fly triathlon and all-round. Plus he won team competition.
But there was another action in 1963 - 4th world championship of CIPS, hosted by Zürich (Switzerland). Czechoslovakia sent team of men and also team of women, Věra Čapková and Marie Wolfová. They had to deal with very strong team from East Germany - Helga Wischer and Hanna Maisel. Marie Wolfová could gain silver in her perfect event - fly arenberg.
But lot of medals was given to Věra Čapková. She gained bronze medal at spinning arenberg and silver medal in spinning distance. Spinning distance was her the most popular event till metal plug was still used.
In fly event she event won the first gold medal for czechoslovakia. She did cast 84 centimeters more than Hungarian Mrs. Barth and 1.17 meters more than Helga Wischer. She also gained 3rd place in spinning triathlon and 3rd place in fly triathlon. In all-round she was on 3rd place too, just behind Helga and Hanna.
Great first participation meant 6 medals for Věra (1 - 1 - 4). Plus she got silver for 2nd place in team competition, that she was fighting together win Marie Wolfová.
Next to national championship in Vsetín city 1964 there also was fifth world championship in Austrian capital Wien. The last cooperation of Marie Wolfová and Věra Čapková brought bronze medal in team competition. Věra gained the second gold medal when she defeated Hana Maisel in spinning distance (Marie got bronze medal), she also added silver medals in fly skish, fly distance and fly triathlon. Věra also gained two bronze medals for fly arenberg and all-round. So she gained 6 medals again (1 - 3 - 2).
1965 was sad, no national championship, no world championship.
But 1966 contained both champs. National one was hosted by Tábor town on 8th to 10th June. This championship was legen - wait for it - dary. No needs Věra Čapková to get down from podium of first place because she won everything. In addition to that she made a problem to men too. She had full points in in fly skish as the only lady. There was only one man that was able to cast full point of fly skish - František Mrkáček (from České Budějovice city). Věra also had 100 point in fly arenberg that only her colleagues Josef Bejšák, Jan Kolek and František Dušánek were able to cast too.
On this competition and in her most favorite event - spinning distance - she was able to cast 72.53 meters that was new national and world record too. Best man had 4 meters less than Věra. For more, Věra gained 7 points more in all-round than best man, Jan Kolek.
This year, czechoslovakia hosted world championship for first time. It was placed to Slovakian town Svit. Among the organizers there were great legend names like Marie Wolfová or one of greatest national supporter of casting, Mr. Jaroslav Skuhra.
Again, Věra Čapková won a gold medal. Gained at fly arenberg. She added bronze medals for spinning arenberg, spinning distance and fly triathlon. So Věra got 4 medals (1 - 0 - 3) and bronze for team, gained with her partner Božena Křenková.
One little note not about the casting.
In 1966 Věra Čapková finish her studies at Faculty of sport education and started her work for Czech Angling Union.
There she was preparing lot of exhibitions and instructions for fishing clubs and club leaders and casting trainers. She was organizing and sending many invitations to local clubs having 100 and more children. Mostly the training and exhibitions were done during weekends and during winter in school halls.
Věra Čapková done a lot of talks about casting through whole year.
She got an idea to prepare emblems for children giving them the emblems after accomplishment of at least 4 of 7 conditions. There was a huge interest of the emblems among clubs.
Back to the results.
In 1967 there was 7th world championship in Bulgarian Varna. In point of Czech ladies this was the greatest championship until new century. Duo Věra Čapková - Božena Křenková gained 6 gold from 9 available. Věra won 4th gold medal in spinning arenberg, 5th gold medal in fly arenberg and 6th gold for winning the all-round. In addition to those she gained silver in fly skish and spinning triathlon and also bronze medals for spinning distance and fly triathlon. In summary, Věra gained 8 medals from 9 available (3 - 2 - 3). Aaand gold from team competition. Following counts of medals for each championship, this was the greatest world championship of Věra's career.
8th world championship was hosted by Güstrow in East Germany. The same members on Czech ladies team, bronze medal this time. Věra could won 7th gold medal for fly arenberg and added bronze medals for spinning arenberg and fly triathlon.
9th world championship was placed to Kiel of West Germany. Ladies team consisted of Věra Čapková and Růžena Zelinková. Bronze medal gained. Věra won 8th gold for spinning distance and added silver for fly skish and spinning triathlon. She also got bronze ones for spinning skish and all-round.
10th world championship was in Swedish Kalmar. First competition where ICF and CIPS did cast together. Not so easy champ, Czech caster had to deal with casting to water courts. There also were new events not know by CIPS rules. For first time there was pentathlon. But this competition was quite successful for Czech men. Jan Kapustík had great time, he won first gold medal for Czech men and he got first medal from pentathlon.
Věra Čapková was also great, 9th gold medal for spinning distance in new world record. It was so big distance so she would be sixth in men category. The result was even longer and casts of all Czech men. She also got silvers for fly skish, fly distance and pentathlon and she got bronzes for fly triathlon and spinning triathlon.
With nine titles of world champion and medal summary of 38 medals (9 - 11 - 18) and 7 team medals (1 - 1 - 5) Věra said goodbye to old rules. Since 1971 CIPS prepared new rules and new events.
New saga of castingsport started.
11th world championship and 1st champ with new rules was placed to Hungarian Pécs city. First time team of Czech ladies did not gain a medal. Věra Čapková and Libuše Rysová (today Libuše Dyková) were fifth. First time Věra Čapková did not gain gold medal but she had at least silver in multiplier distance and bronzes for fly combination and multiplier skish.
Lower amount of medals at 11th championship, higher amount of medals at 12th one. Placed to Augsburg, West Germany. Věra won spinning skish, spinning distance, multiplier distance and pentathlon (10th, 11th, 12th and 13th gold). The biggest amount of gold medals gained by Czech lady until next century. Also gained silver for fly skish and bronze for multiplier skish. Team of Věra Čapková and Růžena Zelinková gained silver medal.
An era of European championships came. The idea of switching Europe and world championship started in 1973 and ended in 2007. Great champ for Věra again. Again winning the pentathlon, another golds for spinning arenberg and multiplier distance (14th, 15th and 16th gold). Also gained silver in fly skish and fly combination and gained bronze for multiplier skish. Team consisted of Věra Čapková and Libuše Rysová, gained silver medal.
13th world championship, Cottbus of East Germany. In team again Věra and Libuše, again silver gained. Second time Věra did not win any gold medal. Just silvers for multiplier distance and pentathlon. And bronze for fly skish.
And again satisfaction for missing gold from previous competition. Europe in Spa, Belgium 1975. Věra won spinning arenberg and spinning distance (17th and 18th gold). Again complete medal types, silver for spinning skish, multiplier distance and pentathlon. Bronze for multiplier skish. With Zuzana Mészárosová from Slovakian Nové Zámky they gained silver for Czechoslovakia.
Maternity leave in 1976. Věra Čapková did not participated the world championship because of giving birth to her daughter. But before leaving the casting she made new world record of spinning distance done in Varna. Still valid record in 80s.
No European championship in 1977.
Funny situation in 1978. A man responsible for team travel to Swedish Stockholm made a mistake and team came late. Czech caster were able to cast only two last events.
No European championship in 1979.
Well, in 1978 team came late. In 1980, to be on the safe side, team did not participate the world championship at all.
So we can see Věra Čapková at European championship in 1981 placed to Hannover of West Germany. This was the only championship where Věra gained no medal. Everything went wrong, even spinning distance went wrong. And Czech team was fourth. Baaad. :(
End of her career was close. But for Věra there 2 more nice actions was prepared.
Legendary year 1982. The year Czechoslovakia hosted world championship for second time. Placed to Karlovy Vary. It was very important competition for czechoslovakia team. Members had to attend four special preparation camps. Věra Čapková was in final nomination together with Iva Světelská and Alena Člaňková (Alena Kläusler).
The results of all caster were incredible. For example, 5 ladies had 100 points from fly skish, four times 98 points from spinning arenberg, twice 100 points from spinning skish.. The rivalry was big and hard. But every Czech lady got medal. Věra got the gold one (19th gold) from spinning arenberg. She also got silver at spinning distance, only 4 cm for gold. Ladies team consisted of Věra and Alena gained bronze medal. Although there were much younger ladies, Věra was still convincing about her casting quality.
European championship in 1983 was placed to Duisburg, West Germany. And wait a second - this was not a championship. Only an European cup! No medals for events, only medals for pentathlon and team competition. A pity. But Věra gained a medal, she was third in pentathlon and at team competition she and Alena won.
Year 1983 for one more time. International cup of friendship in Prague was a great competition for Věra. She made a new record in pentathlon - 595.605 points.
World championship in 1984 was placed to Toronto, Canada. The last world championship Věra participated. Only 4 men and 2 ladies went there. Airplane landed at Montreal and then another flight moved casters to Toronto. Casting was done on golf court.
Věra had bad luck always 4th place in fly events. Bad arenberg, one less and she would fight for bronze medal at spinning skish. No additional money for multiplier events, that time each events cost its own price. Czechoslovakian caster were happy that Czech Angling Union found money at least for travel and pentathlon.
But the last event was the best for saying goodbye. The most favorite event - spinning distance. As the only lady Věra was able to cast over 80 meters. The plug was found at 83.26 meters. Only a third of men could cast to so far distance. So Věra gained another champion title. The 20th gold. And with Alena they gained gold in team competition.
And this was it. No more championships with Věra Čapková. For some time people were saying that she should leave team and let younger ladies cast for team. So after 1984 she was simple not chosen for team. Although she was still attacking first three places on national competitions, she never participated another world or European championship. But 6 years later, in 1990 she was still be able to win a national cup (Memorial of Jiří Vítek, Pilsen). A year later she was still in first 3 ranking places (Cup of south Bohemia, České Budějovice).
Since 1991 she participated national Veteran cup (7th cup that time). But sometimes she participated national championship and won her favorite spinning distance (1997, České Budějovice) and then she was casting for happiness again. But, it was not good as before, the casting was different. Since new rules after 1993 plastic plug and 0.18mm line size required different technique and Věra was not able to feel the plug on rod tip as before. But - she was able to gain a medal from that event in 2005 (national championship in České Budějovice).
Since 2003 she started to participate Veteran world championship. Again she was gaining gold medals (like 3 golds in 2005 or 3 golds in 2007, ...). But in her words, she was never caring of medals. She did much more respect the results, how many point the caster had or how far she or he did cast.
The true is that not only medals but also lot of records and incredible result Věra had a lot.
But we cannot finish this story with results only. Věra Čapková helped the casting so much via propagation and moving the sport ahead. As Czech Angling Union worker she was doing a lot of exhibitions, a lot of briefings, a lot of interesting competitions. Even Václav Musil, a trainer from our Jihlava club, was remembering her coming to Jihlava and making briefing and exhibition.
She helped Jihlava also with preparing Zlatá udice, another competition for children. Although she never trained any caster by herself, she was helping other trainer with training the new casters.
Věra Čapková worked as Czech Angling Union worker till 1991. Then she retired. During her work she suggested making league competitions (1st and 2nd league, league of children), preparing separate national championship just for children 15 year and less and separate one for juniors. She also suggested training camps for talented casters or prepared videos how to cast.
Casting sport was world of Věra Čapková, while competing, while working. All the time.